Teaser Tuesdays is a weekly bookish meme, hosted by MizB of Should Be Reading. Anyone can play along! Just do the following:
- Grab your current read
- Open to a random page
- Share two (2) "teaser" sentences from somewhere on that page


BE CAREFUL NOT TO INCLUDE SPOILERS! (make sure that what you share doesn't give too much away! You don't want to ruin the book for others!)

Share the title & author, too, so that other TT participants can add the book to their TBR Lists if they like your teasers!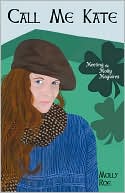 My Teaser:
With an apologetic look at my sister, I went to do as Grammam asked. It was bad luck that Gram came across the yards and found Sarah doing my job. I knew my pious sister was upset at being caught up in my dishonesty. I mentally promised to give Sarah my new plaid hair ribbon.

- p. 21, Call Me Kate: Meeting the Molly Maguires by Molly Roe